We do have a phone # available but request to do things via email.
Please view the information existing on the web site as the majority of questions can and will be answered with the information already provided. Please use the galleries for ideas, visual appearance ect that your after for your project (or forums etc, feel free to copy paste any pictures of a project you find that we have not already completed and forward to us). If you feel you need additional help please email and I will answer as quickly as possible. Please accept our apology in advance for any inconvenience as  you work with us to obtain the delicate balance that will provide your finished product. 
Reasons:
1) We are a small high production shop that has 4-6 experienced individuals/craftsman working on multiple projects daily to keep high quality projects flowing. The challenge of finding the same knowledge base to man just the phone isn't cost effective to keep prices acceptable making a WIN WIN for our customers as well  as our business.
2) Expense needed to remove one or more experienced individuals from the production line to answer questions, decreasing production and adding in overall expense for replacing experienced individuals to maintain production. Increasing overall costs to the customer.
3) Due to so many ideas, conversations, etc its impossible to keep conversations straight with each valuable customer and therefore the email works best. Allows for written estimate  and conversation tracking of each project.
4) 4-6 emails can be answered in the time of one phone conversation.
5) Safety of the individuals not being distracted by the phone ringing while operating machinery.
6) Phone conversations take approximately 4 x longer, reducing our productivity increasing delivery times.
Thanks for understanding and we look forward to completing your projects.
Acoating Crew
Tim,Big Mike, Lars, Eric, Tim H, Raul,
Corrosion Resistance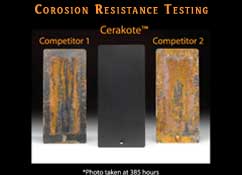 Flexibility Testing