Tim Boehler is another one of NIC Industries top applicators. Tim Won another contest (Nssf 2011 photo contest) after refinishing 2 pistols in cerakote. (Shown)

Contact Tim at:
Alternative Coatings
Applicator: Tim Boehler
...See More
Congratulations to our July photo contest winners!
Also see Contest winning Photo Gallery for pictures of all winners to date. 1st place 2010, 2011, 2012,2013,

Nic (Manufacture ) Picture contests.
Also visit facebook to see our most current projects and performance recommendations by the manufacture.
Nic industries, cerakote, firearm coatings!
http://www.facebook.com/profile.php?id=100001417672752 
Corrosion Resistance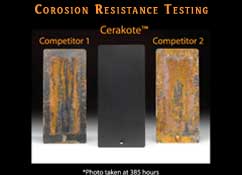 Flexibility Testing