Inspection:
Before we do anything, we will inspect your weapon for safety and proper functioning. Weapons that are not safe to handle or to fire will be returned to the customer. Alternatively, with the customers authorization, we will have our gunsmith repair the weapon before refinishing.
Degrease:
Your weapon and each of its parts will be individually degreased by hand and brush to ensure that any carbon buildup or heavy grease deposits are removed. This ensures that our blast media does not get contaminated by oil - thereby ensuring perfectly clean surface area to accept Cerakote™.
Acetone Bath:
After degreasing, we will bathe the parts and firearm in an acetone bath to remove any degreaser and to further clean the steel surfaces.
Aluminum Oxide (star) blast booth:
All weapon components that are having Cerakote applied will be stripped by the use of aluminum oxide. We use this medium because the aluminum oxide prepares the surface structure of the steel by opening its pores. Bead blasting by glass media does not open the pores and would not meet our rigorous quality requirements for adhesion. Aluminum that has been hard anodized is treated at low pressure to lightly scuff the surface as to not reduce the effect of the surface hardness.
Spray:
Freshly blasted parts are placed in custom jigs and immediately sprayed to minimize exposure to air and entrapment to moisture. Each part is hand sprayed by HVLP gun, including the smallest pins.  We do not dip or use other methods of Cerakote™ application. This is the most labor intensive part of the process and takes the most time and concentration. Years of practice along with extensive knowledge results in perfection each and every time.
Rack & Bake:
After the application of the appropriate color, the weapon and it's parts are placed on our jigs to eliminate any surface contact and put in oven to bake according to the chemists requirements.
Disassemble and Re Assemble:
After the parts cool, each part is inspected for proper coverage, look and feel. Any part that does not meet our rigorous criteria for perfection is stripped and submitted to the procedure again. Your weapon is then assembled by our gunsmith and checked for proper functioning. 
.
Corrosion Resistance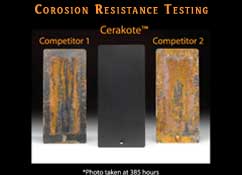 Flexibility Testing