Refinishing Limited Lifetime Warranty: Acoating.com guarantees to will refinish at NO Charge (custom camouflage exempt) including any dis assembly and reassembly fees Paid for on the initial repair.Due to the conditions in which most firearms are handled and used in it is impossible for Acoating to offer a full lifetime warranty without charging (as others do up front in the initial pricing) 2-3 times the Initial coating cost.
Acoating.com guarantees to prep and apply the products as the manufactures have stated in training to be true and correct procedures to insure no flake, peel, or cracking.
As the manufactures of the coatings only offer product replacement if it fails we can only offer the same if proven the product failed, If the application failed we will take responsibility for that under these conditions
Items not covered:

This warranty dose not cover Peeling or flaking caused from or in addition to normal wear and tear (holsters or not), abrasion, damage, dings, Impacts, modifications,Scratches or misuse caused failures in the coating.

This warranty is valid only for the original purchaser of the refinishing and the receipt for the original refinish service is required.
Flexible plastic flip open scope caps, AI stocks, rubber scope bikinis, the rubber feet of bipods or other soft pliable plastics or rubbers, Disassemble and Reassemble charges no originally included and paid for on initial invoice.

All shipping charges: to and from for any and all warranty/repair requests to Acoating.
Corrosion Resistance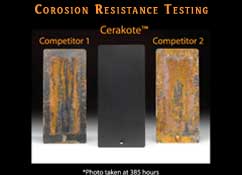 Flexibility Testing