Our technicians will process as much of your firearm as possible. We do not finish the inside of the barrels or chambers, springs, sears, small pins or plungers. Slight over lay of coating can be present in the barrel end or in the chamber area which rarely if ever creates an issue. The first time the gun is fired the residue in the barrel will be removed.
If any polishing of feedramps ect is requested make note on order and an additional charge applied for repolishing.
Many customers prefer to have the ramp ect coated with the barrel which is fine just insure you have asked us or another gunsmith to deal with any failure to feed ect issues.
The coating is approx 1 mil or .001" and the residue in barrel ends or chamber area is even less.


Corrosion Resistance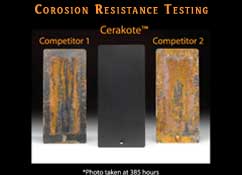 Flexibility Testing