Your Name: David Kopf
Message: Acoating.com
Decided to build a "Tactical Turkey" shotgun and started by stripping down a Remington 870 and sending the parts to you for painting. This is the first time I've had a gun painted or worked with your company. All I can say is "WOW". First class customer service, quick responses to my e-mails, great website, and a very fast turnaround. Once everything was put back together and all the aftermarket parts installed, it looks absolutely amazing. Not sure if you can really call a gun "sexy", but this one is! I've got a Remington 700 I'm getting ready to send your way followed by a Knight Muzzleloader. Can't wait to see how they turn out. Appreciate all the time and effort you and your crew put into doing a quality job.
Corrosion Resistance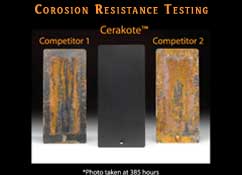 Flexibility Testing