Just wanted to send a photo of my "Tactical Turkey" gun.  You guys did the paint job and I just got it finished up.  This project came out perfect!  Not only is this a good looking gun, but it's a shooter.  I'm getting about 78 pellets in the head/neck @ 25 yards.
I've got a Remington 700 coming back from you guys this week - can't wait to see how it looks.
Thanks for all your great work.
Corrosion Resistance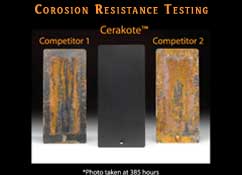 Flexibility Testing