Tim,
I would like to take an extra minute to compliment your work and service.
It is quite obvious you do not mind to take an extra minute to ensure the work that leaves your facility is second to none.
 Each project I have ask you do has presented you with some out of the ordinary challenges.
It has never mattered to you if the work was precision gunsmith work on actions or a scoped AR15 Cerakoted in pink and white for my granddaughter.
 You have Cerakoted many color combinations with each far exceeding my expectations, shortened barrels,and modified many action configurations while treating me like I was your only customer.
The least I could do is express my gratitude for the services rendered that shows the craftsmanship of your Company at its finest.
Please feel free to use this note in any way, or pictures of some of the work you have completed for me in a very timely and economical fashion.
Thank you for your attention to the details,
JCS
Corrosion Resistance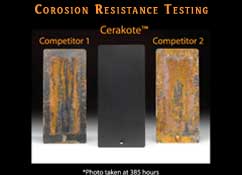 Flexibility Testing