I went online to get 6 price quotes for Duracoat refinish for two well worn handguns that I loved. Tim at Alternative Firearms Coatings sent me a price quote list which included Cerakote prices. I was blown away by the fact his Cerakote prices in most case were less than others Duracoat. Certainly I did not find anyone who could even come close to matching his prices for Cerakote.

Tim made sure I understood all the advantages and technical aspect of the process. I knew when I dropped off my guns that Tim really knew and enjoyed what he was doing.
He did an amazing job with the two handguns, they were perfect and looked "brand new".  Not only that but he also did some extra finishing touches I did not expect; Polished the barrels and triggers for a much smoother pull and even colored dotted the sights.  I gotta mention the less than a week turn around time also amazed me. He will see more of my guns in his shop. Completely, totally satisfied!

Daniel Boone
Peoria, AZ.
Corrosion Resistance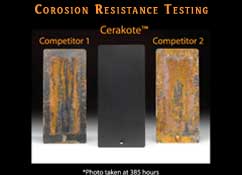 Flexibility Testing