Direct link to shipper for up to date information.
http://www.fedex.com/us/services/terms/index.html?tsid=s1
FedEx Express will transport and deliver firearms as defined by the United States Gun Control Act of 1968, between areas served in the U.S., but only between:

Licensed importers; licensed manufacturers; licensed dealers; licensed collectors; law enforcement agencies of the U.S. or any department or agency thereof; and law enforcement agencies of any state or any department, agency or political subdivisions thereof; or
Where not prohibited by local, state and federal law, from individuals to licensed importers, licensed manufacturers or licensed dealers (and return of same).

If your shipment contains firearms, select the Direct Signature Required or Adult Signature Required Delivery Signature Option, depending on the requirements of your shipment. See the Delivery Signature Options section for details. Firearms shipments are not eligible for signature release or indirect delivery.
Firearms must be shipped via FedEx Priority Overnight service. FedEx Express cannot ship or deliver firearms C.O.D. Firearms shipments cannot be placed in a FedEx Express Drop Box.
Upon presenting the package for shipment, the person tendering the shipment to FedEx Express is required to notify FedEx Express that the package contains a firearm. The outside of the package must not be marked, labeled or otherwise identify that the package contains a firearm.
The shipper and recipient must be of legal age as identified by applicable law.
The shipper and recipient are required to comply with all applicable government regulations and laws, including those pertaining to labeling. The Bureau of Alcohol, Tobacco, Firearms and Explosives can provide assistance.
FedEx Express will transport ammunition when packed and labeled in compliance with local, state and federal law, and the Dangerous Goods section of this Service Guide. Ammunition is an explosive and must be shipped separately as dangerous goods. You agree not to ship loaded firearms or firearms with ammunition in the same package.
Corrosion Resistance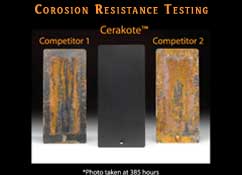 Flexibility Testing