Yes, ALL gunsmithing should be completed PRIOR to finishing your firearm.  We have complete access to gunsmith and machine shop services.
Upon shipping your items note what work you would like done and if you haven't found the price on the price list already, Note to have an estimate for the service before proceeding. Acoating will email you an estimate for your approval before coating your items until authorization for the gunsmith repairs, Improvements have been authorized.
OR
Please E-mail your request for quote of what you would like to have done. Or view the pricelist for the items your looking to have completed.
Corrosion Resistance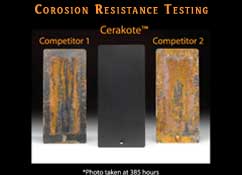 Flexibility Testing