All I can say is WOW! Tim, you did an outstanding job and I thank you very much! I have a few more firearms that I will be getting cerakoted and your company is getting the work! I will be in contact with you to get quotes for the work!
One again thank you very much and your workmanship is outstanding!
You produce a great product!
Corrosion Resistance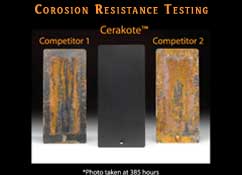 Flexibility Testing