Your Name: Kevin Trotter
Message: Great Work, Love what you did with my 1911 (Commander frame)! Love the Cerakote Graphite Black over Sniper Gray!
& real happy you talked me out of the Sites I wanted, & what we went with. The TruGlo Tritium/'Fiber Optic's you suggested are perfect! the inside tune up on My Firearm Spot on! I use to like that gun~Now I love it!
Look forward to doing business with Ya in the future!
Kevin In Surprise!
Corrosion Resistance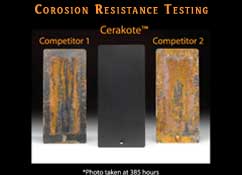 Flexibility Testing