Well it has been carried IWB in kydex for 22 days since I ran the 1st 100+ rounds through.
 It has seen 2 action pistol matches, and a couple of trips to the desert.  Excess of 300 rds have been sent down range and many more presentations than normal ["Hey I wanna see how it came out!  Oh wow nice."]
 Took it down and cleaned it today 1st time [Ed's Red soak].  No wear spots--none, the receiver feed ramp is just beginning to appear polished from my brass jacket 125 grainers.
  If I get myself shot in a group of gun people while excitedly snatching  up my shirt and pulling this out uttering look at this guys---it will be your fault.
   Just thought you should know,  Nat Edmands
Corrosion Resistance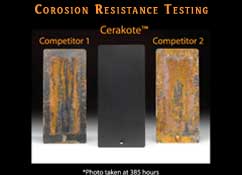 Flexibility Testing