Here are the pics and the testimonial. It looks great now with the black Alumagrips. Looks like it was cut from a hunk of granite. Looks and feels great.
Just wanted to give everybody a good feeling for the work Tim does at making your favorite pistol look great. I contacted Tim via email about having my Rock Island 1911 Cerakote'd and adjustable sights being added front and rear.. Tim responded within an hour to start a great customer relationship that lasted through the entire process. Tim kept in contact with me at every important event in the process. I also swamped Tim with a ton of questions and he gladly answered every one of them timely and completely. When my pistol arrived back home I was blown away at the craftsmanship and attention to detail. It is a beauty to behold. Almost don't want to shoot it it looks so good. I hope you will give Tim a chance to do his magic on your favorite pistol or rifle.
Randy in Spring, TX
Thanks ACOATING.COM for the great work. Hope to work with youy again real soon.
Randy
Corrosion Resistance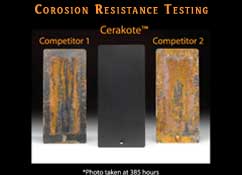 Flexibility Testing