WOW! I can't believe these are my old guns!
I've owned a Colt .45 and a Winchester Model 94 for years, and while they have been great guns and have performed well they have never looked very impressive. Some years ago I had spent over $60 and 10 hours trying to blue my .45 myself but it didn't come out very well. My Model 94 had little rust pits all over it from the previous owner. I would keep them clean and oiled, but would always be embarrassed when my friends cheaper weapons looked better.
When I found The Alternative Firearm Coating Team I got excited reading about the high quality process at a cost only slightly more than some of the "do-it-yourself-kits" out there and decided to give them a try. I had expected a longer wait time and a decent appearance, but only days later when I went to pick my guns up I was blown away. They both look like brand new guns, with a quality of finish I had only seen on the expensive weapons I've handled at guns stores. Absolutely AWESOME! I chose Graphite Black that has a satin finish and looks almost "metal-flake" in the sun. Simply beautiful.
The looks are amazing, but the quality and durability of the finish makes my guns better than new. I paid a little extra to have them do the R&R. It saved me the trouble plus everything was inspected and adjusted properly. I also has them update the trigger, hammer, and beaver tail on my Colt - INCREDIBLE!
I literally have 2 brand new weapons that look and perform amazing. The Winchester's value increased by what it cost to have the work done, and the Colt's value increased more than what the work on it cost.
I am extremely happy with the finishes, parts, turn-around time, and even the cleaning and shooting advice I received as a bonus when I picked them up. Thanks Tim!
Sincerely,
Ron D.
Phoenix, AZ
Corrosion Resistance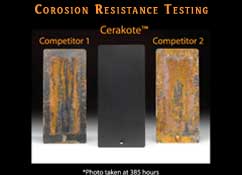 Flexibility Testing